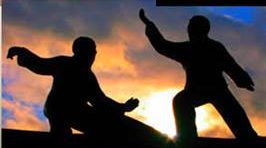 Tai Chi & Qi Gong 
Tai Chi is martial art practiced by millions over the centuries and used to promote and maintain health.
Qi Gong health forms have been used for thousands of years for healing and calming body and spirit.
The soft, slow and gentle movements of these exercise systems align the body, allowing health and wellbeing to flow throughout the body.
Benefits
Benefits of Tai Chi and Qi Gong include
improved balance

improved focus 

improved coordination

increased relaxation 

reduced stress levels
Our Instructors
Chief Instructors: Natalie founded Severn Sun Tai Chi in 2012 and Paul joined in that year as an Instructor. Natalie has trained in various martial arts from childhood onwards and decided to focus on Tai Chi and Qigong in 2004. Paul has trained in Karate before beginning Tai Chi in 2006.
We train in various styles of Tai Chi, including Yang and Chen and Pheonix, learning directly from Grand Master Liming Yue and Master Joe Lok.
Both Natalie and Paul are Indoor Students of Grandmaster Liming Yue,  a great honour for the Tai Chi Club as was their acceptance as Instructors for the Phoenix Style by Master Joe Lok.
Both Instructors are qualified to teach weapons have training with weapons including Sabre, sword and fan.
The list of  Qigong offered is very long but includes; Phoenix, Open Door Five, Ba Dua Jin, Five Animals and seated practices.
Classes
Blakeney:  Blakeney Village Hall,  Butts lane, The Smithy, Blakeney, GL15 4DW
What three words = ///battling.baker.lifts
Thursday 7-8 pm
Gloucester:  Wotton House International School, Wotton House, Horton Road, Gloucester, GL1 3PT
What three words = ///deaf.rust.taken
Tuesday 7-8 pm 
Coleford :   St Margaret Mary Church, 4 High Nash, Coleford, GL16 8HN
What three words = ///ribs.exonerate.above
Wednesday 10-11 am 
Click here for a demonstration by Grand Master Liming Yue of the Chen 11 Form:
https://www.youtube.com/watch?v=fhbRZk-volw&t=2s
Click to contact us for details.